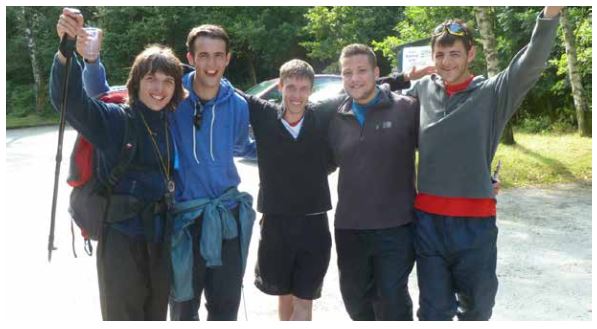 14.11.2017
His Royal Highness The Earl of Wessex KG GCVO is coming to Cambridge in January in his role as Chair of The Duke of Edinburgh's Award and International charities. He seeks your support – as businesses and as individuals - to help transform young lives in our local area.
The Duke of Edinburgh's Award is the UK's leading youth charity, helping 270,000 young people each year to develop new skills and become active, confident members of their communities.
Gold Award holder, Emma Sammes, admits she was in trouble at school and at risk of exclusion when she began her DofE journey. "After my Dad died, I realised I had to turn my life around. The DofE taught me to embrace challenges and showed me that I was strong enough to cope with anything life throws at me."
HRH has pledged to play every real tennis court in the world, all within the calendar year 2018.
Together, this initiative seeks to raise the profile of the DofE's remarkable work in the UK – and with your support – help thousands more young people take part in this life-changing award.
In Cambridgeshire, the DofE works with more than 2,200 young people each year including many who are at risk, marginalised and vulnerable or living in the most deprived areas of the county. For these young people, the DofE has a transformational impact on their attitudes, well-being and prospects.
DofE would like to suggest a donation of at least £250 to help transform lives, like Emma's. Your gift will help the charity to achieve their vision that all young people, regardless of their background and ability, should benefit from the DofE. 
To make a donation please download and complete the  RSVP and Donation Pledge Form 
As a thank you for such a generous gift, you will receive an invitation to attend a champagne reception on the historic 150 year old courts of Cambridge University Real Tennis Club, followed by a private black tie dinner hosted by HRH The Earl of Wessex at Jesus College. The special guest speaker has just been announced as the renowned comedian and satirist Jon Culshaw who undoubtedly will make quite an impression! 
Transport between the club and college will be provided.
There are also opportunities for corporate sponsorship of the tour or specific events across the country throughout 2018.
For further details please contact Amanda Sanders
Thank you for helping to transform young lives.
The Duke of Edinburgh's Award (DofE) is the world's leading youth achievement award that is currently helping 420,000 young people to develop for life and work in the UK. In 2016/2017, over 270,000 young people started a DofE programme, including nearly 50,000 from disadvantaged backgrounds.  Founded by HRH The Duke of Edinburgh in 1956, the DofE is currently being delivered in 10,800 DofE centres such as schools, youth clubs and prisons, supported by over 2,600 partner organisations and approximately 40,000 adult volunteers from all walks of life.
In total, over six million people have participated in DofE programmes in the UK and achieved over 2.7 million Awards since 1956. In 2016/2017, 133,369 achieved a Bronze, Silver or Gold Duke of Edinburgh's Award.
The DofE is supported by UK employers including Amey, St James's Place, Tarmac, British Gas, DFS, Heathrow and RSM who endorse the skills and attributes developed whilst doing a DofE programme such as resilience, commitment, self-motivation and team working.
The Duke of Edinburgh's Award is a Registered Charity No 1072490 and in Scotland No SC038254 and a Royal Charter Corporation RC000806
The Duke of Edinburgh's International Award Foundation is a Registered Charity in England and Wales, No 1072453. There are more than one million young people currently participating globally in more than 140 countries and territories.