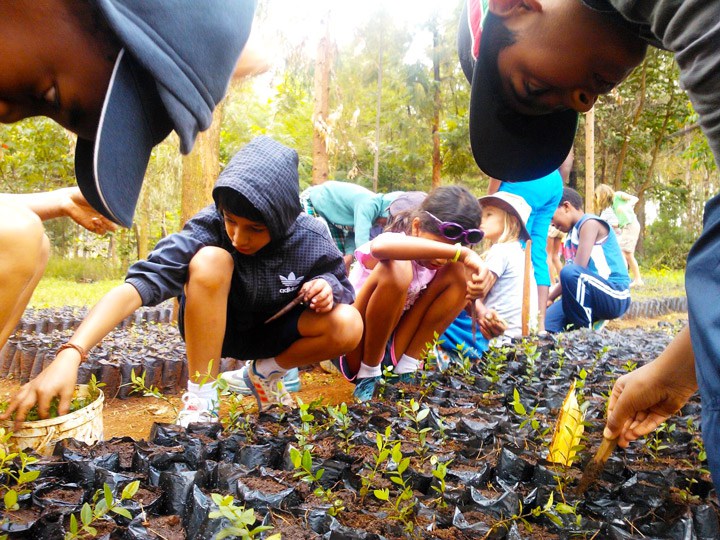 Tamara Britten sets out to see how outward bound adventures can get children out of their comfort zone, giving them lifelong skills in decision-making and teamwork.
The boy navigating a steep ramp on his bike skidded to a halt in front of me. "It's fun," he grinned. "You should try it!" A girl, attached by a rope to an instructor on the ground, was the first to make it to the top of the climbing wall. "It was tough," she said, after abseiling back down. "But I loved it."
The schoolkids had travelled from Arusha in Tanzania to Rift Valley Adventure's (RVA) camp in Ol Pejeta Conservancy outside Nanyuki to try their hand at a series of activities designed to test their nerve and skill. In front of me, children tossed the ball back and forth in a game of football, tried their hand at a mountain-bike obstacle course and scaled climbing walls.
With children these days spending more and more time hooked up to technology, such as ipads and laptops, getting out of the city into a challenging outdoors environment, where both their initiative and courage is tested, is more important than ever.
It's far from a new idea in Kenya, of course. In 1966, Jomo Kenyatta, Kenya's post-independence leader, launched the President's Award, linked to the popular Duke of Edinburgh award scheme in Britain that incorporates public service, expeditions, pursuits and fitness, while at the same time instilling children with important life skills, and ethical values.
It's not pie-in-the-sky stuff. These types of schemes are believed to develop children's decision-making skills, improve their attention span, and build their integrity, all vital in later life.    
Peponi House, a private Nairobi prep school, is one of several Kenyan schools to embrace the idea of learning away from the classroom. It has incorporated outdoor education into every aspect of its school life, preparing kids for life beyond the confines of the school.
"Independence and strength of character, alongside teamwork and collaboration, come from those experiences that push children beyond their comfort zones," says Mike Peck, deputy head of Peponi House.
RVA, which offers tailor-made adventure holidays with activities as diverse as climbing Mt Kenya, mountain biking through game-rich savannah, or kayaking down a frothing river, says its trips are more than just fun-filled holidays. The team believes it has established a winning combination of adventure, conservation, cultural integration and educational activities, all with instructors certified to international levels of safety.
At Ol Pejeta's famous chimpanzee sanctuary, the group from Arusha learned the hard way what the day-to-day job of a conservationist entails: they had to pick up all the sticks in the enclosure.
"It's because the chimps have learned how to use the sticks to touch the electric fence," one of the children explained.  "They can move the wires with the sticks, and climb through to explore the wild."
"When we finished, the rangers threw food to the chimps," another told me.  "They eat oranges and bananas and avocado and papaya.  For dinner they get ugali and eggs and sweet potatoes."
At the rhino enclosure, meanwhile, the children were expected to shovel rhino dung into a truck. "It's heavy work," one complained. The ranger laughed, saying, "It's all part of day in the life of a conservationist."
During an RVA trip, the children are put in charge of their own activities. "This is not just adventure," says Dipesh Pabari, RVA's general manager. "It's walking the talk, not just talking the talk." Nothing is fixed or static and the kids are behind every endeavour they take on, giving them a sense of achievement to which no organised activity comes close.
For example, should they choose to zip-line down a waterfall, they – under the eagle eyes of their instructors – find the site, set up their ropes, zip-line through the gushing water, then take the ropes with them when they go.
"What we do is very different," says Pabari. "We don't do game drives and  you won't see nature from behind the windows of a bus. You'll experience it first hand from the end of a rope, the bottom of a canoe or the back of a camel."